Investors
Welcome on board, Obi-Wan!
Idea
Starwatcher connects both sides of the table - Startups and Investors. We aim to create a safe environment where startups can meet investors and share their progress. Companies are in charge of who sees what
How it works?
Starwatcher is a community where you can find startups and follow their progress over time.
Rules
This is double-opt in network - both sides have to accept connection to see each other content. Without your approval startups can't access your contact information and can see only general information about the fund.
Don't be spammy. You don't like it. We don't like it. No one likes spam. We have quite a big database with startups but like with any relationship, not everyone is fit for you. Reach out to those who really might be a fit for you.
Give feedback. We are startup ourselves and always on a lookout for a way to improve experience in this universe. Just shoot a message to feedback (at) starwatcher.io
Walk through
So what do we have here?
Recommendations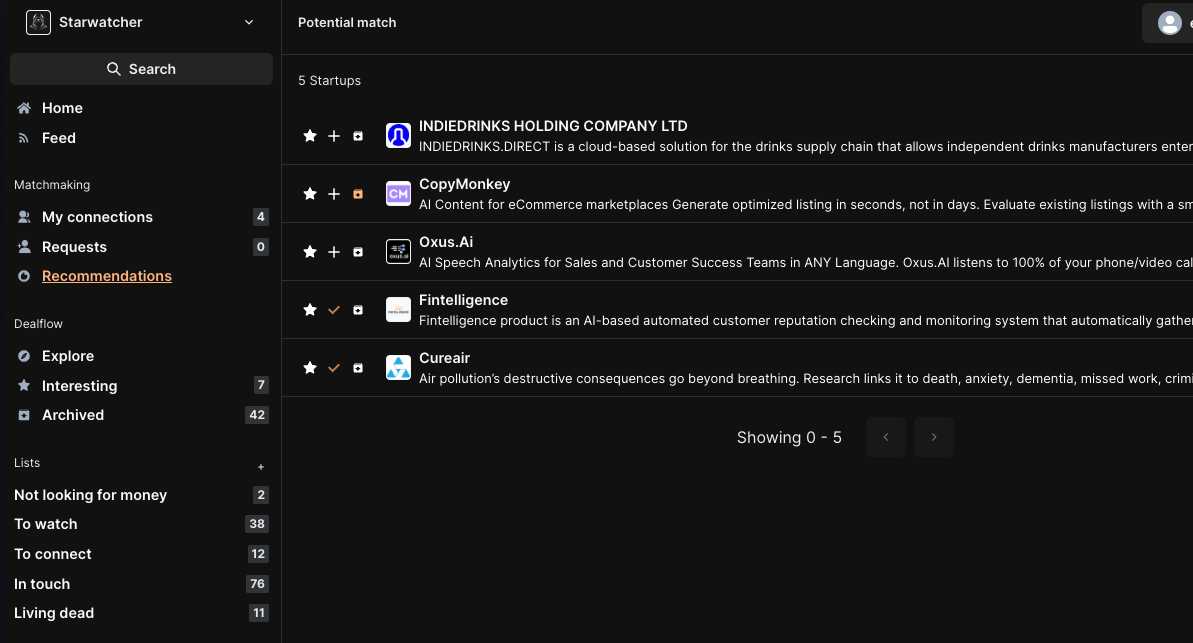 You have created your profile and once in a while - more often than you might think - Starwatcher goes through startup list and look for startups whos industry, stage, location, round size matches your thesis. It doesn't mean that they are going to take your investment proposal but there could be something. Connect with them and have a chat.
Explore
You can roam startup database and look for companies who might be a good fit. We try our best to find information about startups. You can mark them Interesting, Archive or add to lists.
Interesting and Archive
This is a quick way to go through startup dealflow. Mark companies as Archived if you don't want to see them anymore. Add them to Interesting, to have additional research later on. It's like your backlog. They will be out of results as you already are "in process" with this company.
Lists

This is place where you can organise startups. We have created couple of lists in advance but it is up to you how to structure them. There are couple of things you can do with those lists.
You can export a list. You have your own super secret set of magical tools you use for various tasks and we know that you love Excel. So here it is, you can export a list to a spreadsheet.

You can share a list.

You can follow progress of companies in a list. Each list has a feed where you can see updates from companies in a list
Feed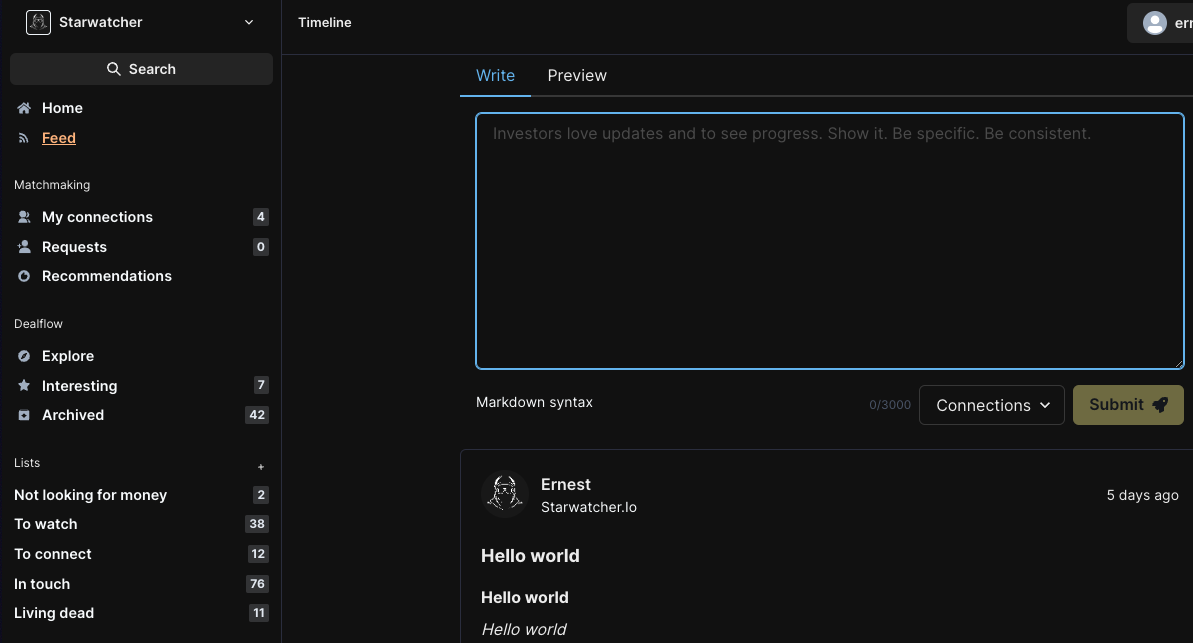 Feed is a place where companies share their updates. There are two type of update visibility - Public or Connections.
Public can be seen by every Starwatcher user. It is a good way to share general news about company progress.
Connections means that updates can be seen only by connections. Connect with startups to gain access to more detailed information like user growth and other KPI's.
Connect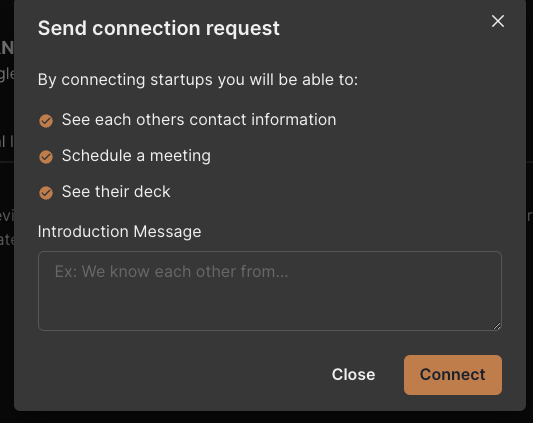 Starwatcher is a community. You can connect with any company on Starwatcher. If they accept your request, you will have an access to their calendar link, pitch deck and updates. You can add a note to your connection request. Be personal and to the point.
By sending connection request, you give access to your calendar link and feed. If they accept your connection request, you have access to their deck, calendar link, revenue information and feed.
Note, not every profile is claimed by a company (yet). We do reach out to startups to notify that there is an interest on Starwatcher.